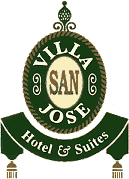 Reservaciones: Tel. 01800 8884 545 Fax (443) 324 4545
Dirección: Patzimba No. 77 Col. Vista Bella CP 58090
e-mail: hotel@villasanjose.com.mx
http: www.villasanjose.com.mx
A perfect balance between what nature offers and what man is able to build. Each room has been decorated uniquely with original Michoacan artists works of art, decoration will make you feel the essence of the typical hadcrafs thanks to our different categories: 26 deluxxe ruistic rooms, 15 Junior suite and 2 master suite.
Services

Parking
Pool
Access to the Golf CLub
Spa
Gym
TV
Telephone
Chimeny
Room service
Baby sitter
Tennis court
Function rooms

Fonda Santa María restaurant; taste the best of the regional and internacional cuisine, in an excellent and comfortable athmosphere, with the best panorama of the city. Open from 7:30 to 23:00

El Bazar bar, with live music from Tuesday to Saturday, exclusive atmosphere and personalized attention. With capacity up to 60 people, open from 18:00 to 2:00 am.